A number of issues related to strengthening of public-private partnership discussed
01/04/2019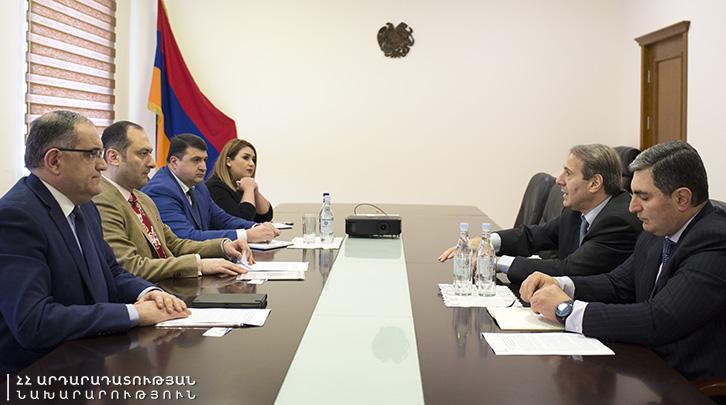 Today, Minister of Justice of the Republic of Armenia Artak Zeynalyan received Managing Director of "HayPost Trust Management" Juan Pablo Gechidjian and discussed a number of issues related to the strengthening of public-private partnership.
Let us remind that "HayPost" is one of the operators performing functions of the service centres of state bodies, providing 67 state services.
Juan Pablo Gechidjian presented the vision of "HayPost" for development in this field and the opportunities for the provision of state services by all the service centres of "HayPost" operating in Armenia.
Minister Zeynalyan noted that the Ministry of Justice is interested in the enhancement of this institution, emphasising that both citizens and the State will benefit from bringing state services closer to citizens. "We are interested in deepening the co-operation, and I affirm our commitment to enhance the sector," Artak Zeynalyan noted.
Let us mention that, at the unified offices, citizens of the Republic of Armenia can benefit from a number of services provided by the service centres of the State Register Agency of Legal Entities, the State Cadastre of Real Estate, the Civil Status Acts Registration Agency, the Ministry of Foreign Affairs of the Republic of Armenia, the Police of the Republic of Armenia and the State Migration Service of the Republic of Armenia.
For the list of services provided at the unified offices and the addresses of the offices, please visit the website of the Ministry of Justice at http://moj.am/services/service_offices.