Minister of Justice and U.S. Ambassador reach an agreement to enhance co-operation
04/04/2019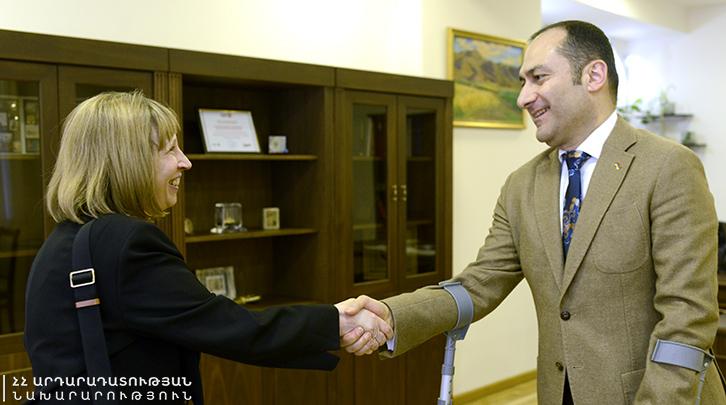 Today, Minister of Justice of the Republic of Armenia Artak Zeynalyan received newly appointed Ambassador Extraordinary and Plenipotentiary of the United States of America Lynne Tracy.
Artak Zeynalyan welcomed the Ambassador in the Ministry of Justice and congratulated her on being appointed to the position, wishing her good luck and effective work in the course of the diplomatic mission. The Minister highly appreciated the current level of close co-operation between the Embassy and the Ministry of Justice of the Republic of Armenia, especially in the field of the fight against corruption and expressed confidence that there is a big potential for developing mutual interaction in different directions.
The Ambassador expressed gratitude to the Minister for reception and noted that she is happy to be in Armenia, especially in the period when there are opportunities to enhance the partnership. Ambassador Tracy assured that the current interaction between the Ministry and the Embassy would continue, and all the opportunities for enhancing it would be used.
During the meeting, the Minister and the Ambassador discussed a wide range of issues of mutual interest aimed at the fight against corruption, guaranteeing the right to fair trial, judicial and legal reforms, projects being implemented with the support of the U.S. Agency for International Development, reforms in the field of bankruptcy, introduction of alternative mechanisms for dispute resolution, possibilities to implement joint programmes in the field of criminal justice, as well as improvement of conditions of holding convicts and capacity building of the Probation Service.
At the end of the meeting, Minister Zeynalyan and Ambassador Tracy reaffirmed their willingness to develop co-operation.