Rustam Badasyan discusses activities being implemented in judicial and legal and anti-corruption sectors with EU colleagues
18/02/2021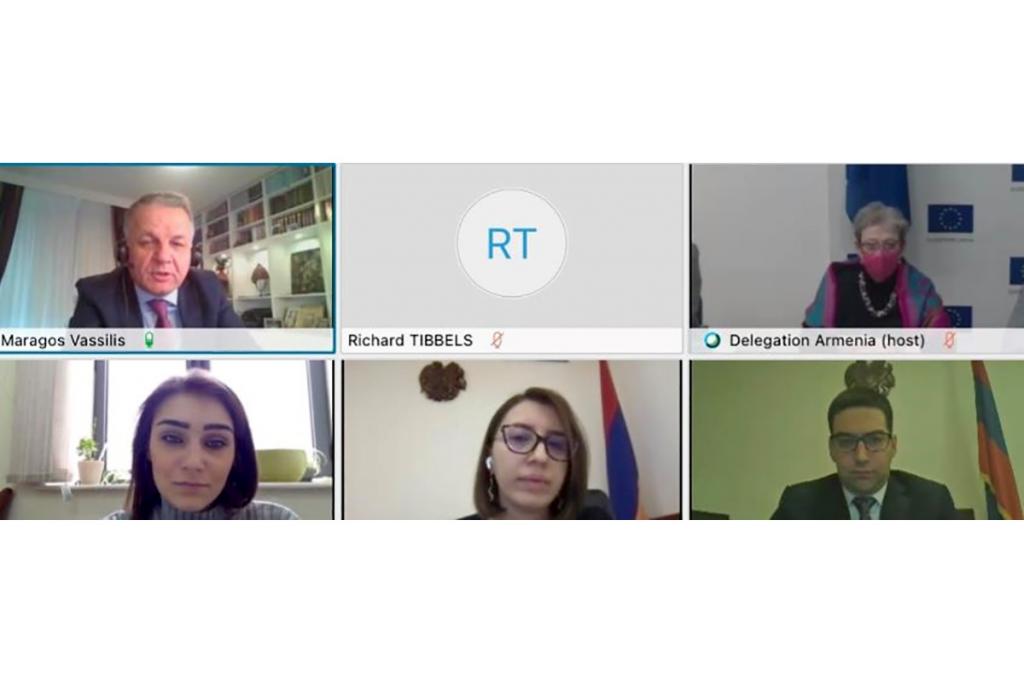 Today, Minister of Justice Rustam Badasyan remotely discussed a number of issues related to judicial and legal, anti-corruption and police reforms in Armenia with high-ranking officials of the European Union.
Head of Armenia, Azerbaijan, Belarus and Eastern Partnership Unit of the Directorate-General for Neighbourhood and Enlargement [Negotiations] of the European Commission Vassilis Maragos, Head of the European External Action Service Eastern Partnership Bilateral Relations Division Richard Tibbels, Head of the Delegation of the European Union to Armenia, Ambassador Andrea Wiktorin, Deputy Minister of Justice of the Republic of Armenia Kristinne Grigoryan; Co-ordinating Adviser for International Legal Co-operation of the Ministry of Justice of the Republic of Armenia Amalya Hovsepyan, and others also participated in the discussion.
The Minister expressed gratitude to the European Union for the EUR 9 mln grant allocated to the Government of Armenia in the first stage for the purpose of supporting the implementation of reforms in the justice sector in Armenia, which is a part of the budget support in the amount of EUR 30 mln.
Presenting the activities carried out in the anti-corruption sector, among other achievements, Rustam Badasyan highlighted the legislative packages for the establishment of the Anti-Corruption Committee and Anti-Corruption Courts, adopted by the National Assembly in the first reading, as well as touched upon the fully adopted legislative initiative, pursuant to which cases of pre-trial criminal proceedings (detention, search, etc.) and the motions for operational intelligence measures will be examined by judges having undergone integrity check.
Talking about reforms in the Police, the Minister of Justice of Armenia presented the activities being carried out for the establishment of the Patrol Service, the achievements in this stage, as well as the regulations of the legislative initiative for the establishment of the Ministry of Internal Affairs submitted for public discussion.
The parties also discussed issues related to the priorities for sector-specific co-operation in the upcoming seven years, as well as preparation for the next session for dialogue in the justice sector.
The officials of the European Union assessed the co-operation with the Ministry of Justice as cornerstone and reaffirmed the commitment of the European Union to support the reforms agenda in Armenia.