Ambassador of France to the Republic of Armenia expresses willingness to support in the sectors of digitisation of justice sector and fight against corruption - Karen Andreasyan meets with Anne Louyot
24/11/2021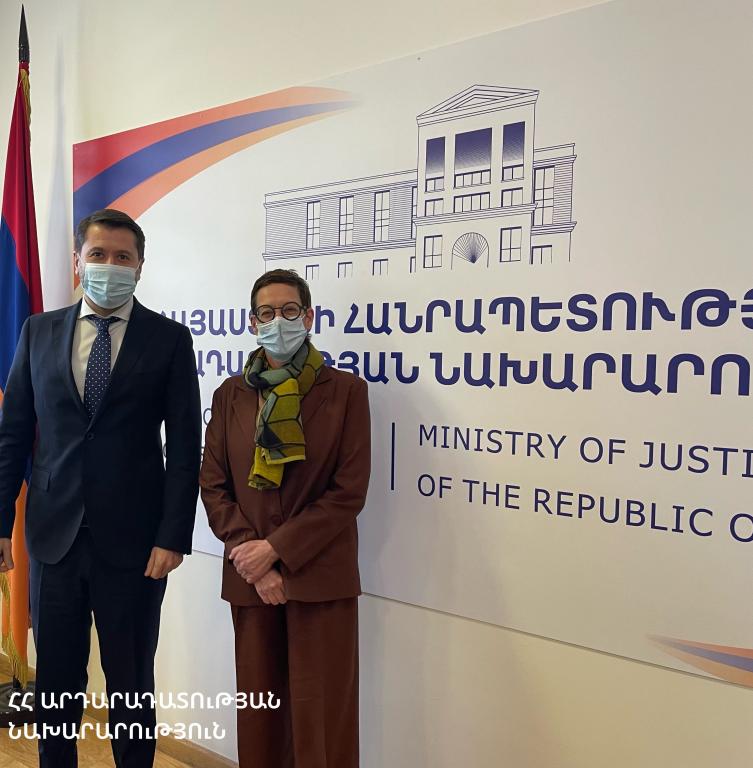 Today, Minister of Justice of the Republic of Armenia Karen Andreasyan met with Ambassador of France to the Republic of Armenia Anne Louyot.
The Minister expressed gratitude to France for co-operation.
The Ambassador of France attached importance to the reforms in the justice sector, particularly the establishment of the Police, the Patrol Service and the Ministry of Internal Affairs. The Ambassador inquired about the reforms being implemented and to be implemented.
The Minister of Justice presented to the Ambassador the course of implementation of police reforms, constitutional reforms, the reforms being implemented in the penitentiary system and the Probation Service, as well as the functions of the Ministry for digitisation of the judicial system and for increase of effectiveness of the provision of public services.
The Minister also touched upon the Anti-Corruption Strategy and the creation of institutional anti-corruption bodies.
The Ambassador of France to the Republic of Armenia expressed willingness to support in the fields of digitisation of the justice sector and the fight against corruption, as well as expressed interest in participation in the course of police reforms and constitutional reforms.