Minister of Justice and US Ambassador discuss progress of reforms implemented in sector
09/04/2021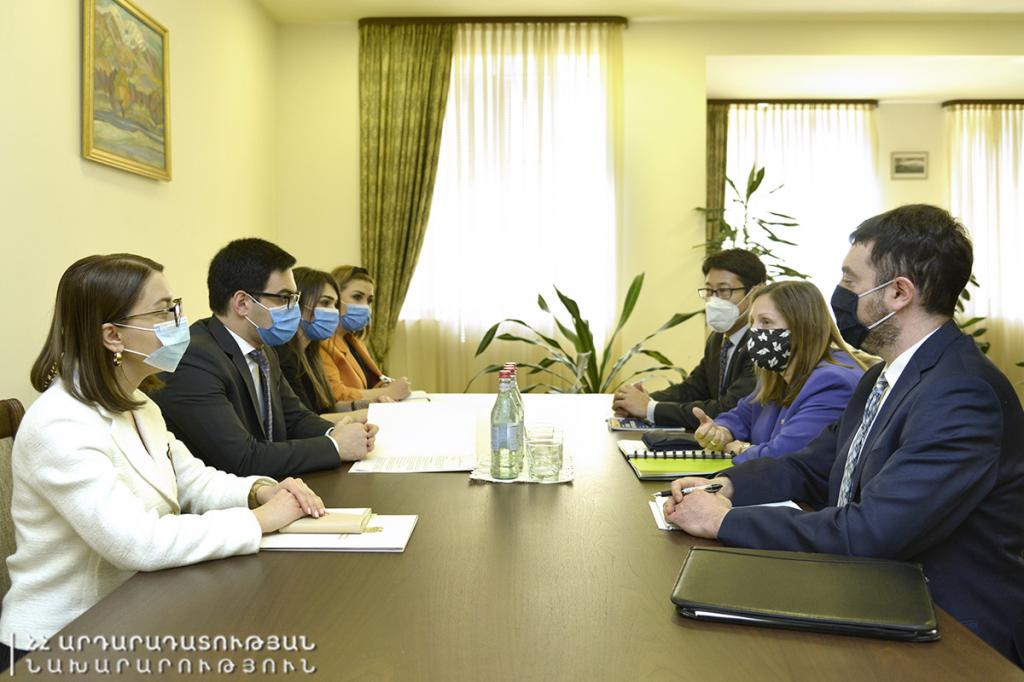 Today, Minister of Justice Rustam Badasyan received the delegation led by Ambassador Extraordinary and Plenipotentiary of the United States of America to Armenia Lynne Tracy.
Minister Badasyan expressed his gratitude to the Government of the United States of America and the Ambassador in person for supporting anti-corruption and police reforms in Armenia, as well as, in this context, attached importance to the effective
co-operation with USAID Armenia Mission Acting Director David Hoffman.
During the discussion with the Ambassador, the Minister touched upon the 2020 Human Rights Report on Armenia of the U.S. Department of State, presented the ongoing reforms in the sectors of penitentiary and civil forfeiture of illegal assets as well as those in judicial system and emphasised that the Government of the Republic of Armenia will steadfastly continue to implement the reforms agenda.
Ambassador Lynne Tracy attached importance to the activities being carried out for co-ordination of the Ministry of Justice and emphasised that despite the challenges of the previous year, significant success has been achieved in these directions. Ambassador Tracy reaffirmed the support of the Government of the United States of America aimed at implementing reforms in a number of sectors.
USAID Armenia Mission Acting Director David Hoffman announced the launch of the new five-year projects in the Anti-Corruption and Justice sectors.
During the meeting, Minister Badasyan emphasised the necessity of more active steps to be undertaken by the USA partners in terms of clear response to the policy of Azerbaijan refusing to return the prisoners of war and other civilians held. The Minister also emphasised that the mentioned persons are prisoners of war within the meaning of international humanitarian law; therefore the statements of the Azerbaijani side on this issue are groundess.
During the discussion, the activities being carried out for establishing the
Anti-Corruption Committee, the Anti-Corruption Courts, as well as the Ministry of Internal Affairs, the terms of their operation, as well as a number of issues regarding the forthcoming parliamentary elections were discussed. Mrs. Ambassador emphasised that early parliamentary elections held in 2018 established a high benchmark of democratic, free and fair elections in the region and expressed hope that this benchmark will also be maintained during the forthcoming elections. In this regard, Rustam Badasyan emphasised that the Government has the political will to hold all elections freely and transparently; thus strengthening the fact that Armenia is the country with the strongest democracy in the region.